Due to scheduled maintenance, the District's phone lines will be down for about an hour today beginning around 10 AM. Sorry for the inconvenience.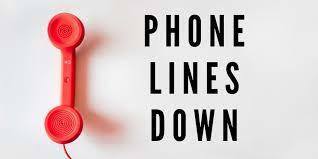 Picture day for Cumberland schools will be Tuesday, August 23. You may order your photos at
https://inter-state.com/order
. Forms will also be sent home. Order Codes: Elementary School - 68835XF Middle School - 68836V High School - 68836N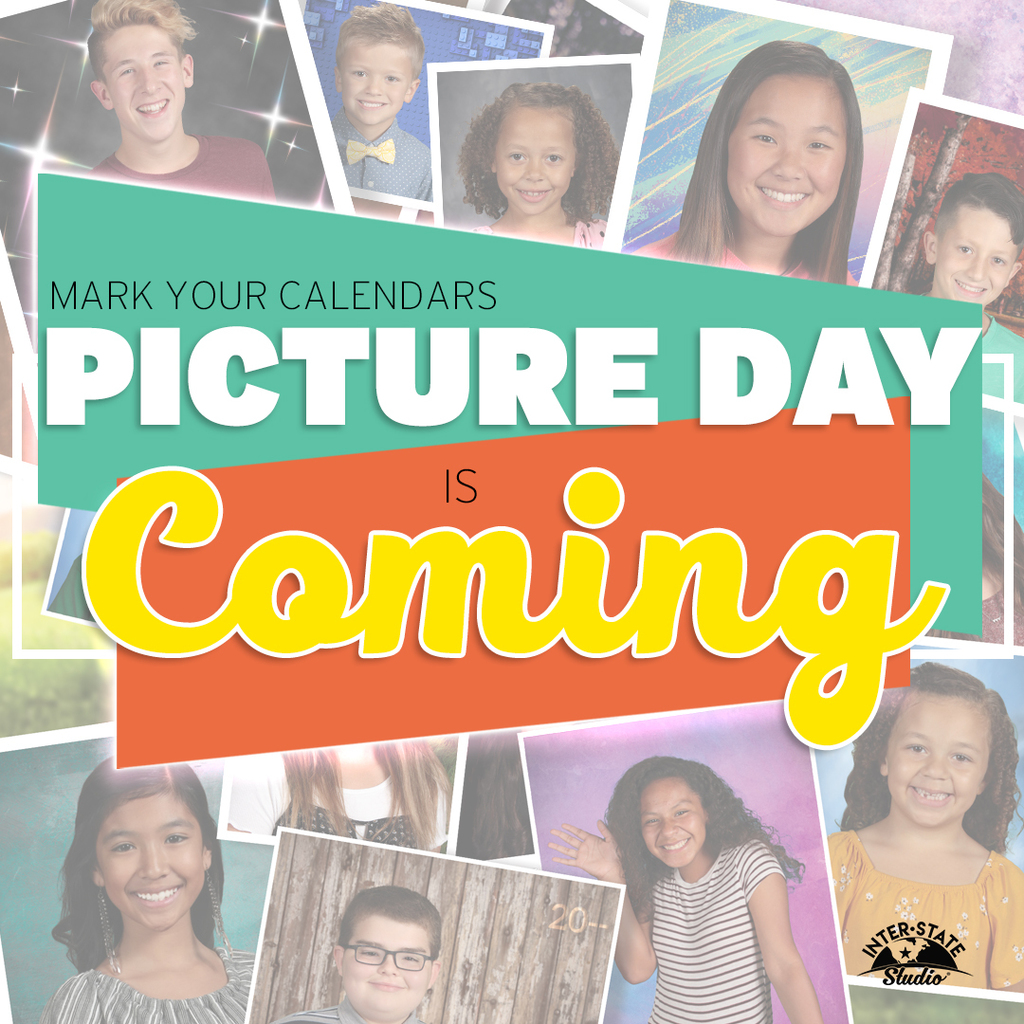 Please visit the following link to participate in the 2022-2023 Cumberland Backpack Ministry.
https://5il.co/1fe58

Good morning! Thank you to everyone that has completed their online registration. Online registration closes this Friday, August 5. If you need assistance completing registration, please contact the school at (217) 923-3132. For best results, please register on a computer. The schools will be open next week for new family registration and those needing assistance in the registration process. Please call the school to make an appointment. Thank you!

HS Cross Country There will be a Parents meeting on Friday, August 5, 2022 at 6 pm at the Toledo Rez Pavillion for those interested in running for High School Cross Country. Parents/Guardians of all runners need to plan to attend to receive paperwork and schedules for the upcoming season. Cumberland HS Cross Country practice begins on Monday August 8th at 7 pm at the Toledo Rez. All players must have a sports physical in order to participate. SBL Toledo Clinic is doing sports physicals on Wednesday August 3 from 3-6 pm. Please call the clinic for more information.

We have had a great response to online registration. Thanks to everyone that has registered! We have, however, encountered some issues with online registration using the TeacherEase app. To avoid errors, please use the website
www.teacherease.com
on a computer or tablet to register your child. If you need assistance, please contact your child's school at (217) 923-3132. Thank you for your patience and understanding.

If you are having trouble with Online Registration from the app on your phone, please try to complete it on a computer. Thank you for your patience as we navigate this new service.

Parents/Guardians: When filling out your Online Registration, please remember to add phone numbers for your emergency contacts. If you think that you may have forgotten to add a phone number, please contact your child's school at (217)923-3132. Thank you!

Online Registration for the 2022-2023 school year is now open and will remain open until August 5. Log in to TeacherEase to begin your registration. You should have received login information via email last week. If you did not receive an email, please contact your child's school at (217)923-3132 for assistance. New families to the District may register at their child's school during the week of August 8. Please contact the school at (217)923-3132 to set up an appointment. The schools will be open for registration help during the week of August 8 from 8:30-1:00. For additional information, please click on the registration tab on the school website,
www.cumberland.k12.il.us
.

Updates about the school lunch and breakfast program for the 2022-2023 school year: - The USDA's "Free Meals For All" program that began two years ago has expired and regular prices will be charged this year. An article about the changes is linked to this post. - Lunch will cost $2.70 and Breakfast will cost $1.25. -Money can be added to your child's account during online registration or by bringing a check to the school. - Free & Reduced Meal Forms are available on the school website on the Registration tab.
https://www.fns.usda.gov/cn/2022-23-parent-faqs

Amber Scales and Steve Powell presented a $7,000 check to the CUSD #77 Band program in honor of Terry Scales. The money was raised from the Terry Scales Memorial Benefit. Terry was a lifelong lover of music and is dearly missed. The money donated will be used to aid low income students in their band education. Pictured is Blake Ozier, Band instructor for CUSD #77, Amber Scales, and Steve Powell.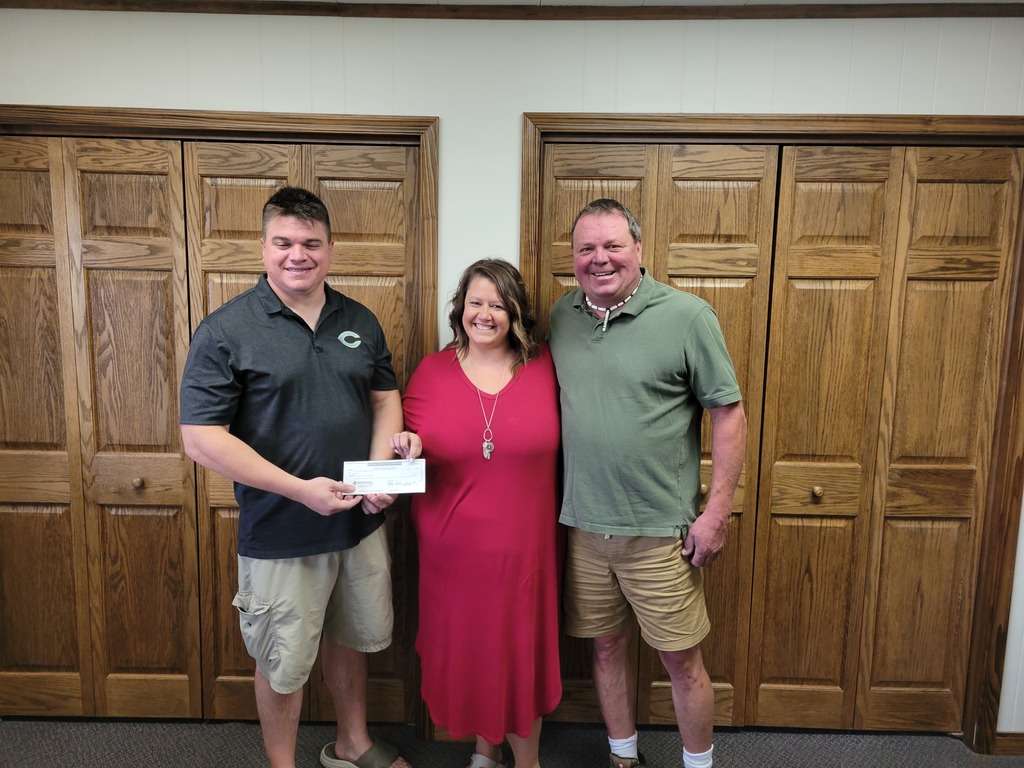 Important information regarding Registration: Parents and Guardians, today you should receive an email to welcome you to our new online parent portal, TeacherEase. This email will allow you to create an account with TeacherEase so that you may have access to register your students, and in the future, check grades, balances, and communicate with the school. Please check your email and let the school office know if you have any trouble. An email is required to use TeacherEase. If you do not have an email account, you can create a free account using the link below. Online Registration will be open from July 27 - August 5. New families to the District should call the school office at (217) 923-3132 to set up a registration time.
https://accounts.google.com/signup/v2/webcreateaccount?flowName=GlifWebSignIn&flowEntry=SignUp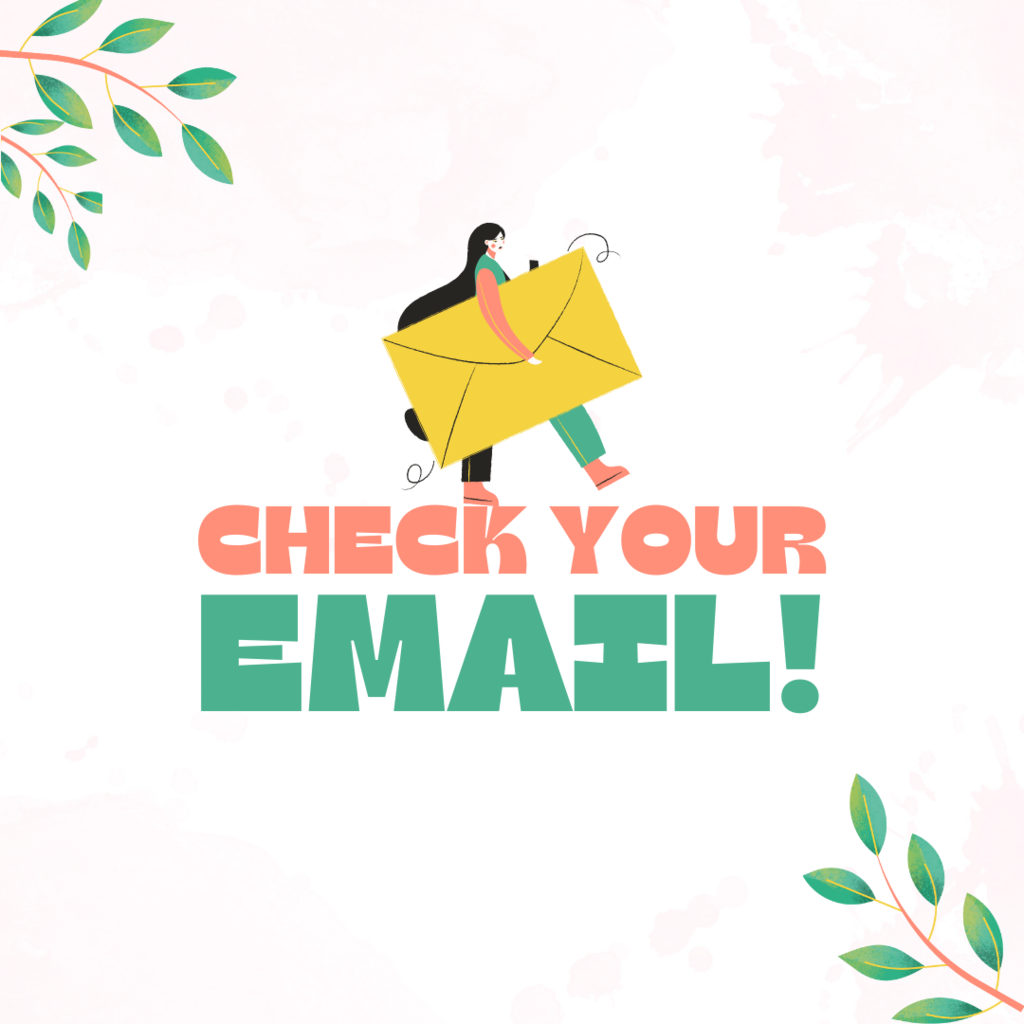 Welcome Cumberland Middle School Girls (6th, 7th or 8th grade athletes) to the Fall 2022 Softball Season. Our player/parent meeting will take place Monday, July 25th, 8:45 a.m before the first practice at the Toledo Legion fields. The first practice will be from 9-11 am on Monday, July 25. Please note that players will not be allowed to participate until they have a current physical on file with the school nurse. If you are interested in having your daughter participate, or have any questions or concerns, please contact head coach Brittany Gilbert,
bgilbert@cumberland.k12.il.us
or Stacy Keyser
skeyser@cusd77.org
.

On Thursday, July 14th, Cumberland Middle School cross country coach, Mrs. Megan Walk, will hold a meeting at 6 PM at the Toledo Res to discuss the upcoming cross country season and sign up those wanting to participate. Any interested 6th, 7th, or 8th-grade boys or girls and their parents are encouraged to attend. Participants are reminded that they must have a current physical on file to begin practice. Please contact Coach Walk, at
mwalk@cumberland.k12.il.us
with any concerns or questions.

Current Job Vacancies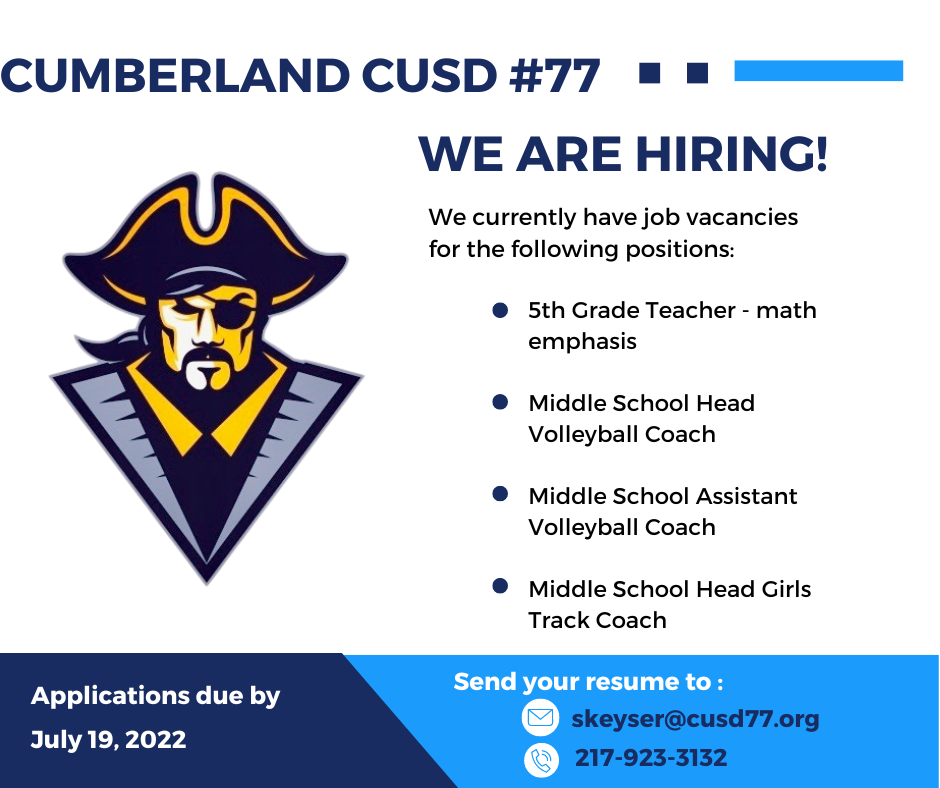 Any incoming 6th, 7th or 8th grade boy interested in playing middle school baseball this fall needs to attend an informational meeting on Monday, July 11, at 6:00 PM at the Toledo Christian Church. Please enter the church by using the southeast door by the auditorium. If you have any questions, please contact Coach Brandon Miller at 217-549-1743.

This is a reminder that there will be youth football sign-ups this coming Wednesday, June 15th from 6:00 - 7:30 PM in the elementary school cafeteria. Youth football will be available to any student that will be entering 3rd thru 8th grade for the upcoming 2022-2023 school year. The registration fee will be $80. Incoming 3rd graders will have the option to play tackle or flag football.(Information on flag football will be given at the beginning of the upcoming school year). If your child is interested in participating in the youth football camp there will be information on getting them signed up for that at this time also. There will be an additional sign-up on Tuesday, June 21st from 6:00 - 7:30 PM in the elementary school cafeteria as well. If you have any questions you can contact Lucas Watkins at 217-714-1252.

2022 Summer Football Schedule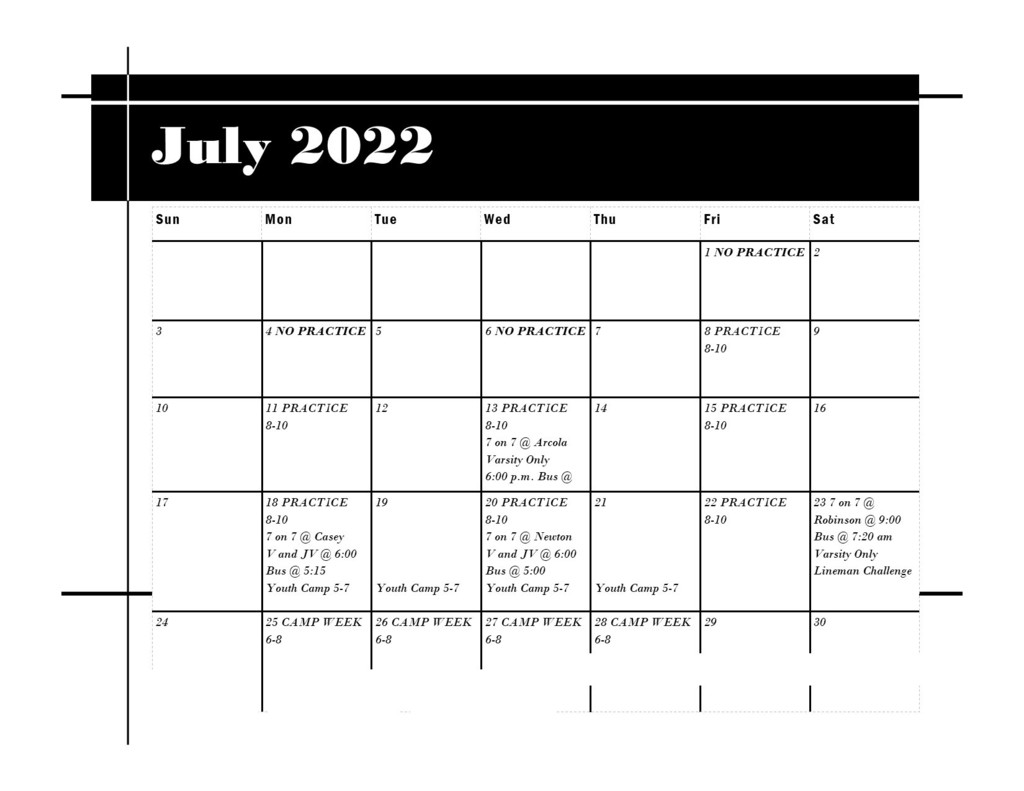 3rd place team 3A boys state track meet