Cumberland Middle School volleyball will travel to Lawrenceville on Friday, February 19 for a 4:30 pm start volleyball game. There will also be a "C" game at 4 pm prior to the JV and Varsity contests to allow younger and less experienced players an opportunity to scrimmage with another team. The bus will leave at 2:15 pm. This is a rescheduled game from Tuesday, February 9 when Lawrenceville received a large snowstorm and had no school.

The Cumberland Middle School volleyball team's game against Lawrenceville on Tuesday, February 9 has been cancelled due to snow that has caused Lawrenceville to not have school on Tuesday, February 9. This game will be rescheduled and players and parents will be notified of the new date. Cumberland Middle School volleyball girls will practice after school from 2:30-4:30 pm in the new gym on Tuesday, February 9.

The Middle School Boys Basketball game tonight vs. Oblong has been cancelled. Oblong could not come due to weather. The game will be rescheduled at a later date.

Our school's Online Book Fair is open! Discover the characters, series, and collections kids love. All purchases benefit our school. The book fair runs from 2/8/21 - 2/21/21. Check it out! Visit us at
https://www.scholastic.com/bf/cumberland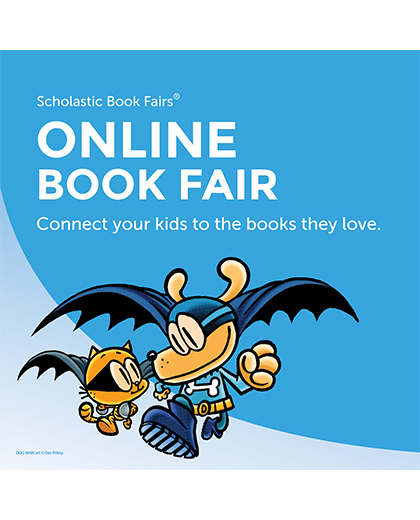 The Middle School Boys Basketball tonight vs Casey (6PM) will be streamed by WMMC Radio. Go to wmmcradio.com and then click on Casey-Westfield Athletics. This will take you directly to where you can see the game.


Elementary and Middle School -- Picture Retake Day -- February 17, 2021 If your child was absent, remote learning, or quarantined, this will be his/her opportunity to have school pictures taken. If you did not like your child's picture that was taken in November, you may return the pictures, and he/she will be photographed again on this day. If your child is a full-time remote learner and you would like to have his/her picture taken, please bring your child to school between 9:30 and 10:30 am on the 17th. You may drop off your child at the office entrance and wait in your car while pictures are taken. It should only take a few minutes. A mask will be required to enter the building. We have a limited number of order forms or you may order pictures online at
www.inter-state.com/order
Elementary Code: 57159BA Middle School Code:57159EA Thank you, Stacy Keyser, Middle School Principal Daniel Huffman, Elementary Principal

Thank you to everyone that was able to donate to our recent blood drive. Thank you Mr. Jones, Ani Edwards, Kylee Mayes, Gwen Dunn, and Meah Scales from the Cumberland Middle School student council for facilitating the event.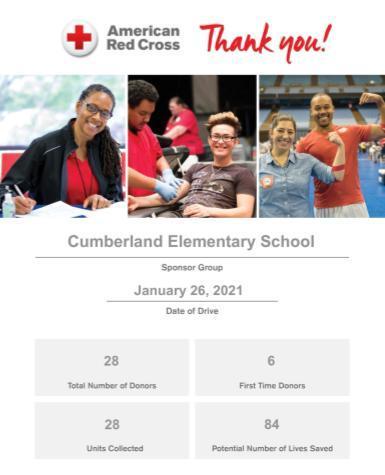 Cumberland Middle School boys basketball practice will begin on Tuesday, January 26 at 2:15 pm in the old gym for 7th and 8th grade boys. A current sports physical must be on file in order to participate in practices. Masks must be worn at all times during practice and games. Informational packets will be sent home with students on Monday, January 25. Please contact Mrs. Keyser at
skeyser@cusd77.org
with any questions or concerns.

Cumberland Middle School will begin girls volleyball practice on Monday, January 25 from 2:15-4:30 pm. Paperwork will be sent home with 7th and 8th grade girls tomorrow (Thursday, January 21). Coaches will be Ms. Kylee Booth and Mrs. Tracy Wright who are both high school teachers in the district. Athletes must have a current physical on file in order to participate in practice. All paperwork is also due on the first day of practice. Athletes will have to follow all IDPH guidelines and must wear a mask at all times during practices and games. More details will follow soon. Questions can be directed to Mrs. Keyser, CMS principal and athletic director.

Any remote learners wishing to attend school the second semester as an in-person learner should contact their school's office by the end of the day on Friday, December 18, 2020

Kylie Mayes, Cumberland Middle School Student Council President, is pictured giving a donation to Greg Boldt, senior minister at Toledo Christian Church. This donation is for the food pantry at the church and was generated from spirit day hat day proceeds recently. Thanks to the students and staff who donated to this worthy community cause.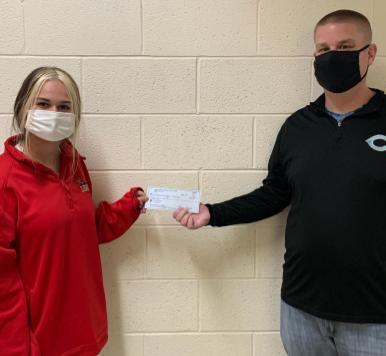 Mrs. Carr's homeroom won the Middle School November reading challenge by reading 126 books. The students enjoyed donuts this morning as their reward.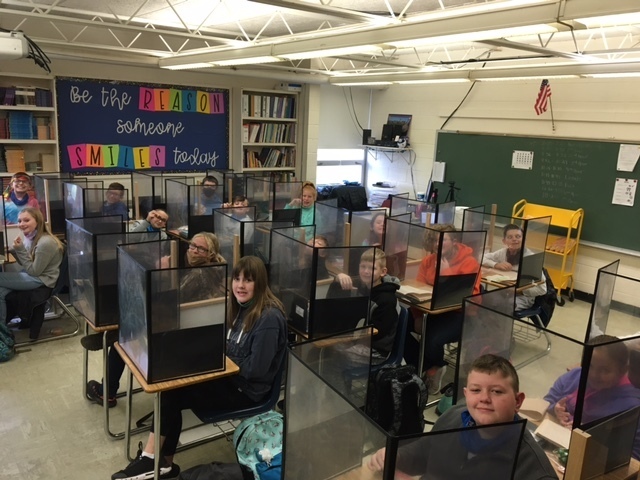 Mrs. Keyser created videos explaining Google Classroom for parents of students in grades 5-8. Visit the News section on the Cumberland Middle School website to view those videos.
https://www.cumberland.k12.il.us/o/cms

If you are calling the grade/middle school building, you will need to call 923-3132 and specify which extension you wish to contact. The extensions for the secretaries are 1101 and 1201. Mrs. Keyser's extension is 1200 and Mr. Huffman's extension is 1100. The old number of 923-3135 is no longer in service.

Cumberland Middle School softball will play in the first round of regionals on Monday, September 21 at 5 PM against Bridgeport Red Hill in Bridgeport at the field on Corporation Street. Go Lady Raiders!

Cumberland Middle School baseball will play in the first round of regionals on Monday, September 21 at 4:30 PM against Bridgeport Red Hill in Toledo at First Neighbor Bank field at 200 S. New Jersey Street. Go Raiders!

Cumberland Middle School will plan to honor our 8th grade baseball and softball athletes at the Toledo ball diamonds prior to the start of the following games. Baseball: Tuesday, September 9 at 4:30 pm Opponent is Pal-Hut. Softball: Wednesday, September 8 at 4:30 pm Opponent is Pal-Hut.

To All IESA Member Schools: In my 32 years of tenure here at the IESA I do not think I have ever experienced anything that has been as controversial as the mandate we received from the IDPH that face coverings must be worn by fans and spectators at both indoor and outdoor events. With our baseball and softball seasons underway, the face covering mandate has been met with a backlash that has become legendary. Much of the problem for you the schools has been the conflicting guidance given by the state of Illinois. We were given the mandate by IDPH. We shared with you that masks had to be worn by fans and spectators at all times outdoors and yet ISBE and DCEO put out a document called the All Sports Policy that said that masks did not have to be worn by fans and spectators when they were outside and they could maintain a safe social distance (pg. 8 of the document)
https://coronavirus.illinois.gov/sfc/servlet.shepherd/document/download/069t000000CyCndAAF?operationContext=S1
Over the last several weeks, Craig Anderson, the Executive Director of the IHSA, and I have emailed and texted numerous times to the Deputy Governor, ISBE, IDPH and others asking for clarification and answers as to why the two documents are different. We have explained how unfair it is to you the schools to have information that is completely opposite. Despite numerous attempts to get a response, we heard nothing on this issue. However, yesterday we finally received an email response. Basically, we were told that schools should follow the guidance given by DCEO. We were told that the DCEO guidance is the "floor" and that organizations like IESA and IHSA can be more stringent. IESA has no intention of making things more stringent. Given the All Sports Policy is co-branded by ISBE and DCEO and given that on pg. 8 of that document it states that fans and spectators do not need to wear masks when outdoors and able to maintain safe social distance, my recommendation to all IESA member schools is that you follow the guidance given in this document. Of course you have the responsibility to insure your fans and spectators are maintaining safe social distance but as long as they are, then the document gives you the guidance you need regarding face coverings at outdoor events. In addition, you also have the responsibility to ensure your players and coaches are following the guidelines that have previously been sent. I am sorry for the confusion we all have experienced and the time it has taken to sort this out for you. I wish we could have received answers sooner to alleviate the confusion. We are updating all of the information we have on our website to reflect this information we finally received. Please contact me if you have any questions. Steve Endsley Executive Director